KAZENERGY Youth Committee was established in 2009. Participation in international industry events encouraged young specialists of the Association and its members to modernize the work of the Youth Committee.
Prerequisites for modernization
The desire of young specialists of oil and gas and energy industries of Kazakhstan to be a part of the professional community by uniting their talents, experience and knowledge.
Interaction at the international level: with the World Petroleum Council, the Society of Petroleum Engineers and international Youth organizations of oil and gas industry.
Assistance in forming the personnel reserve in the oil and gas and energy sectors of Kazakhstan.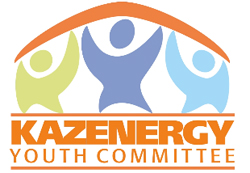 Mission
To consolidate the opinion of the youth of the Kazakhstan energy sector and to be heard on the international arena. It is important for us to be part of the global professional community.
Vision
We are striving to create the global energy future by uniting initiatives and talents of young specialists and students of the oil and gas and energy sectors of Kazakhstan. We are striving for joint innovative solutions of the key technical, social, environmental and management problems of the energy sector for our youth and the next generation guided by our values and commitments: leadership, participation, sustainability, transparency and high quality.